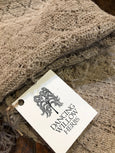 Crocheted Nettle Shawl or Sheath
$ 50.00
These delicate yet durable shawls and sheaths are made from 100% organic nettle...one of our very favorite plants. Soft and supple, you would never imagine that the prickly nettle plant could transform itself into this luscious and organic weave.
The shawl and sheath are both one size fits all and are loose and flowy, bringing an organic sophistication to any outfit. Add some rustic yet feminine beauty to your wardrobe with these hand crocheted items and also support ethical trade.
The crocheted nettles are woven from drop spindle to nimble fingers by women supporting women in the mountains of North West Nepal.
Each piece is stunning and unique in its hue due to differences in small batches, ensuring they are one of a kind. It is also a delightful way to tune into the energy of Nettle!
The shawl is triangular in shape and the sheath is jacket-like. This is truly the perfect gift for anyone....or yourself!